Welcome to Wodonga Lutheran Parish
Welcome in the name of the Lord Jesus Christ. We look forward to having you worship with us!
Looking for a new church home? Talk to any congregation member about your questions, concerns or comments. Also, please feel free to contact the Pastor or call the church office at (02) 6024 7072. Facilities are Handicapped accessible.
More Information Here you will find details of our Parish, our people and activities. If you cannot find the information you are looking for, please contact us.
---
Celebrating Advent and Christmas 2022>
St John's Lutheran Church is observing the liturgical season of Advent beginning on Sunday 27 November 2022. From the Latin word for "coming", Advent is a time of preparation and anticipation for the coming of Christ both in the past in His incarnation as the baby Jesus, but also in the future with His promised second coming as Christ Triumphant.
Furthermore, Advent is a time to focus on His present coming to us in the Word and Sacraments. In the Lutheran church there have been many traditions observed during Advent that help Christians to both prepare for and anticipate His coming at this time. Martin Luther encouraged families to observe Advent as a time for them to teach their children about the coming of Christ.
Advent marks the beginning of the church calendar. It traditionally starts on the Sunday closest to St. Andrew's Day (November 30th) and continues for four Sundays until Christmas. During this time the liturgical paraments and vestments in our Church will change to blue to recognise Advent as a time of preparation and repentance as well as a symbol of the royalty of the coming King. The colour blue is also used as a symbol of anticipation and hope.
The Season of Advent>
St John's Lutheran Church invites you to join with us each Sunday morning at 9:30 a.m. as we celebrate Advent 2022.
27 November Week 1: Hope ✞ We light the purple candle of Hope. Our hope comes from God who will fill all with joy and peace. So it is appropriate that the second Advent candle symbolises peace.
4 December Week 2: Peace ✞ We light the purple candle of Peace. Peace on earth, goodwill to men with the love of Jesus and the promise of a Saviour who would be born in Bethlehem.
11 December Week 3: Joy ✞ We light the pink candle of Joy. The shepherds received a message of joy. It is a time to rejoice during this time for the coming of the Lord is coming soon
18 December Week 4: Love ✞ We light the purple candle of Love. The meaning of the fourth Advent candle is love. The Angel's announce the birth of the baby Jesus. "For God so loved the world that he gave his one and only Son, that whoever believes in him shall not perish but have eternal life." John 3:16
Christmas Day ✞ We light the white candle of Christ. The white candle completes the season of Advent with the birth of the baby Jesus. The white candle stands in the centre of the wreath, just like Christ should stand in the centre of our lives. It is white to reminds us that Jesus is the spotless lamb of God. Clean, sinless, without blemish or stain. Jesus washes us our sins and makes us clean and without stains through the forgiveness of sin.
---
Celebrate Christmas at Wodonga 2022>
Jesus is coming! This year at St John's Lutheran Church, Wodonga we will be celebrating the birth of King Jesus as we share the wonderful news, " For unto us a child is born." We encourage you to bring a friend or two to any of our services.
Christmas Eve we celebrate with a Carols and Readings Service commencing at 6.30 p.m. "For unto us a child is born, unto us a child is given, and the government will be upon His shoulders. And he will be called Wonderful Counsellor, mighty God, Everlasting Father, Prince of Peace." Isaiah 9:6.
Christmas Day Join us on this high and holy day to celebrate the birth of Jesus the Messiah. We will gather at 09:30 a.m. for a special time of worship and celebration with Holy Communion.
---
News from the Lutheran Church of Australia
Bishop Paul Smith Lutheran Church of Australia - enews from the Bishop of the Lutheran Church of Australia and New Zealand Bishop's enews 17 November 2022 - Floods and Storms.
Lutheran Church of Australia - The national body of the Lutheran Church continues to support our local Parishes and Churches. To see what is going on take a look at the latest eNews by following this link and reading on-line Newsletter for 22 November 2022 - Strategic Plan to Guide Reorganisation at ALC.
General Synod News Bulletin for 29 November 2022.
Lutheran Church of Australia - Victorian District - Our Victorian Synod has its own electronic newsletter. Access District Voices to see what is happening District Voices Newsletter for 23 November 2022 - Celebrating Thomastown.
LCA Care Ministries - The vision of the committee is to support and encourage Christian care, in all its forms, in our congregations and in Lutheran Aged Care and Community Services. Newsletter for 10 November 2022 - Christian Care Sunday.
LCA Church Worker Support Department - serves the church by assisting employing and calling bodies to work towards seeing that their church workers can start well, stay well and finish well. Newsletter for 10 October 2022 - Hope Has a Name - Church Worker Online Retreat.
LCA Grow Ministries - Grow Ministries - exists to support a national vision for children, youth and family ministry in the LCA. Newsletter for 28 November 2022 - Advent Resources!
LCA International Mission - Global Partners - Local Church seeks to follow our Lord in His mission to the ends of the earth to make disciples of all nations. Newsletter for 3 November 2022 - 12 Days of Christmas Around the World.
LCA Professional Standards - protects people while supporting the LCA's church workers and volunteers. Newsletter for 21 April 2022 - Child Safety Standards for Congregations.
If you have experienced abuse or have witnessed poor behaviour from someone working for, or connected with, the Lutheran Church in Australia or New Zealand, or if you believe that someone else in the church is at risk, it is important that you let the Professional Standards Department know. Phone 1800 644 628 (Australia) or 0800 356 887 (New Zealand); email complaints@lca.org.au; or post PO Box 519, Marden SA 5070 Australia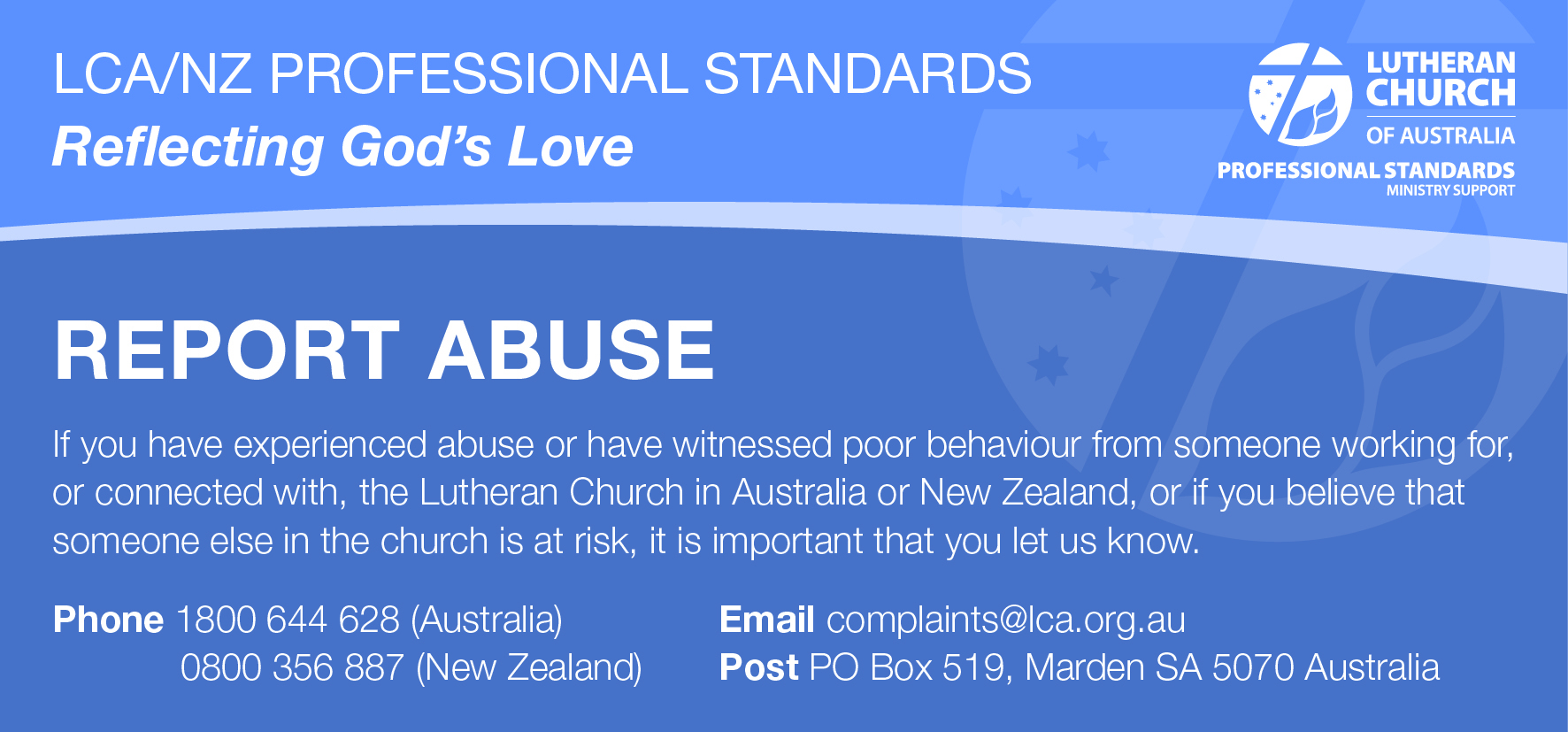 Child Safe Standards Community of Practice Victoria - The Child Safe Standards Community of Practice brings together people from organisations who need to comply with the Child Safe Standards, to learn from and with each other, and create linkages and networks. Victorian Government Commission for Children and Young People Community of Practice.
Child Safety Standards for Congregations. To download click on the image.