Welcome to Wodonga Lutheran Parish
Welcome in the name of the Lord Jesus Christ. We look forward to having you worship with us!
Looking for a new church home? Talk to any congregation member about your questions, concerns or comments. Also, please feel free to contact the Pastor or call the church office at (02) 6057 5855. Facilities are Handicapped accessible.
More Information Here you will find details of our Parish, our people and activities. If you cannot find the information you are looking for, please contact us.
---
Thanksgiving Sunday – 2023
Our special Thanksgiving service will be held on Sunday 19th February at the 9.30 a.m. service.
Collecting Non-Perishable Goods
In the lead up to our special Thanksgiving Service on Sunday the Parish will be collecting non-perishable food and other goods. Items such as pasta, breakfast cereals, tinned fruit and vegetables, soup, soap, toothpaste, shaving products, sanitary products etc may be placed in the boxes at the back of the church. Items will be collected up to and including the 19th February and all items collected will go to the Albury/Wodonga Regional Foodshare.
Tools of Trade
Once again, we will have a display of Tools of Trade at our Thanksgiving Service. If you would like to bring your Tools of Trade to be placed in the front of the church, please deliver them to the church on Saturday 18th February between 10.00 a.m. and 11.00 a.m. or by 9.00 a.m. on Sunday 19th February. Tools of Trade can be symbols of your employment, hobby or craft such as, computers, quilts, gardening tools, sewing machines, paints and brushes, woodwork items etc.
---
Ash Wednesday
Ash Wednesday marks the beginning of Lent and falls on the Wednesday after Transfiguration Sunday. It derives its name from the custom of placing ashes on the foreheads of believers as a sign of repentance. Using ashes as a sign of repentance is an ancient custom which is often mentioned in the Bible (e.g. Jonah 3:5-9; Job 42:6; Jeremiah 6:26; Matthew 11:21). The early Christians adopted the use of ashes from this Jewish practice as an external mark of penitence. Ashes symbolise several aspects of our human existence:
Ashes remind us of God's condemnation of sin. God said to Adam, 'Dust you are and to dust you shall return' (Genesis 3:19).
Ashes suggest cleansing and renewal. In years gone by they were used instead of soap. On Ash Wednesday ashes are a substitute for water as a reminder of our baptism.
Ashes remind us of the brevity of human life. Burial services often include the words 'Earth to earth, dust to dust, ashes to ashes.'
Ashes are a symbol of our need to repent, confess our sins, and obey God.
The ashes used are gathered after the palm crosses from the previous year's Palm Sunday are burned. Those who wish to receive the ashes come forward. Ashes are applied (or imposed) with the pastor's thumb in the form of a small cross on the forehead of each person with the words: 'Remember that you are dust, and to dust you shall return.'
Join with us in our Holy Communion Service lead by Pastor Joshua Muller at St John's Lutheran Church, 14 Havelock Street, Wodonga on 22 February 2023 at 7:00 p.m.
---
Lent
The season of Lent lasts for 40 days. This reminds us of the 40-day fast of Jesus in the wilderness after his baptism (Matthew 4:2, Luke 4:1-2), and also Moses' 40 day fast on Mount Sinai (Exodus 34:28). Sundays are not included in the 40 days because every Sunday is a joyful celebration of Jesus' resurrection.
Lent originated in the early church as a time of preparation for Easter, when the faithful rededicated themselves and converts were instructed in the faith before baptism.
It is a time for repentance and renewal as we reflect on Jesus perfect obedience and his self-sacrifice for our sins. Because of Lent's penitential nature, worship tends to be more solemn, with violet the liturgical colour.
The word 'Lent' comes from the Old English word for 'Spring'. (Lent occurs during Spring in the Northern hemisphere.)
Lent begins on Ash Wednesday and ends the day before Easter Sunday.
Mid-Week Lenten Devotion
Lent is an invitation to focus on what is central to our faith. It has also become a time for personal and spiritual reflection on who we are as God's people and on what God has given us so graciously in Christ. On Wednesdays over Lent Pastor Joshua will lead us through Lenten Devotions at 10:30am.
---
Holy Week Services – 2023
Holy Week is a special time at St. John's. We offer the complete array of worship experiences, which include Palm Sunday, Maundy Thursday, Good Friday, and Easter Sunday. Our services include traditional elements – palms on Palm Sunday, the sacrament of the Lord's Supper on Maundy Thursday, and the Last Words of Christ on Good Friday. We hope you'll join us as we celebrate these holiest of days in the Christian faith. All are welcome and we invite all families and people in our community to join us.
Palm Sunday: April 2nd at 9:30 a.m. - Welcome Jesus into Jerusalem with us!
Maundy Thursday: April 6th at 7:00 p.m. - Join us as we remember Jesus' last days and the command Jesus gave his disciples at the Last Supper.
A new commandment I give unto you, That you love one another; as I have loved you
After the sacrament has ended, the stripping of the altar takes place. The pastor and several assistants remove all vessels, crosses, books, candles, linens, paraments, banners, and other decorations from the altar and chancel area.
This ancient ritual is a powerful and dramatic re-enactment of the Lord's humiliation at the hands of the Roman soldiers. As the altar is being stripped, Psalm 22 with its clear prophecies of Christ's suffering, is read. The bare altar is transformed from the communion table of Maundy Thursday into the tomb slab of Good Friday.
Good Friday: April 7th at 9:30 a.m. - Holy Communion, and Jesus's 7 last words will all be a part of our service.
Easter Sunday Worship: April 9th at 9:30 a.m. - Join us as we celebrate the Risen Christ!
Easter is the central feast of the church year. We rejoice that Jesus overcame death, and that we too can be certain of eternal life when we trust in him.
May the peace, joy, love, grace and hope of the Easter season be with you and with all those you love today and every day!
---
News from the Lutheran Church of Australia
Bishop Paul Smith Lutheran Church of Australia - enews from the Bishop of the Lutheran Church of Australia and New Zealand Bishop's enews 15 December 2022 - Call to Prayer Following Tragic Deaths in Queensland Including Murder of Police Officers .
Lutheran Church of Australia - The national body of the Lutheran Church continues to support our local Parishes and Churches. To see what is going on take a look at the latest eNews by following this link and reading on-line Newsletter for 20 December 2022 - Christmas Blessings.
General Synod News Bulletin for 29 November 2022.
Lutheran Church of Australia - Victorian District - Our Victorian Synod has its own electronic newsletter. Access District Voices to see what is happening District Voices Newsletter for 19 January 2023 - Congregational Anniversaries.
LCA Care Ministries - The vision of the committee is to support and encourage Christian care, in all its forms, in our congregations and in Lutheran Aged Care and Community Services. Newsletter for 10 November 2022 - Christian Care Sunday.
LCA Church Worker Support Department - serves the church by assisting employing and calling bodies to work towards seeing that their church workers can start well, stay well and finish well. Newsletter for 10 October 2022 - Hope Has a Name - Church Worker Online Retreat.
LCA Grow Ministries - Grow Ministries - exists to support a national vision for children, youth and family ministry in the LCA. Newsletter for 28 November 2022 - Advent Resources!
LCA International Mission - Global Partners - Local Church seeks to follow our Lord in His mission to the ends of the earth to make disciples of all nations. Newsletter for 15 December 2022 - 12 Days of Christmas.
LCA Professional Standards - protects people while supporting the LCA's church workers and volunteers. Newsletter for January 2023 - Child Safety Standards for Congregations.
If you have experienced abuse or have witnessed poor behaviour from someone working for, or connected with, the Lutheran Church in Australia or New Zealand, or if you believe that someone else in the church is at risk, it is important that you let the Professional Standards Department know. Phone 1800 644 628 (Australia) or 0800 356 887 (New Zealand); email complaints@lca.org.au; or post PO Box 519, Marden SA 5070 Australia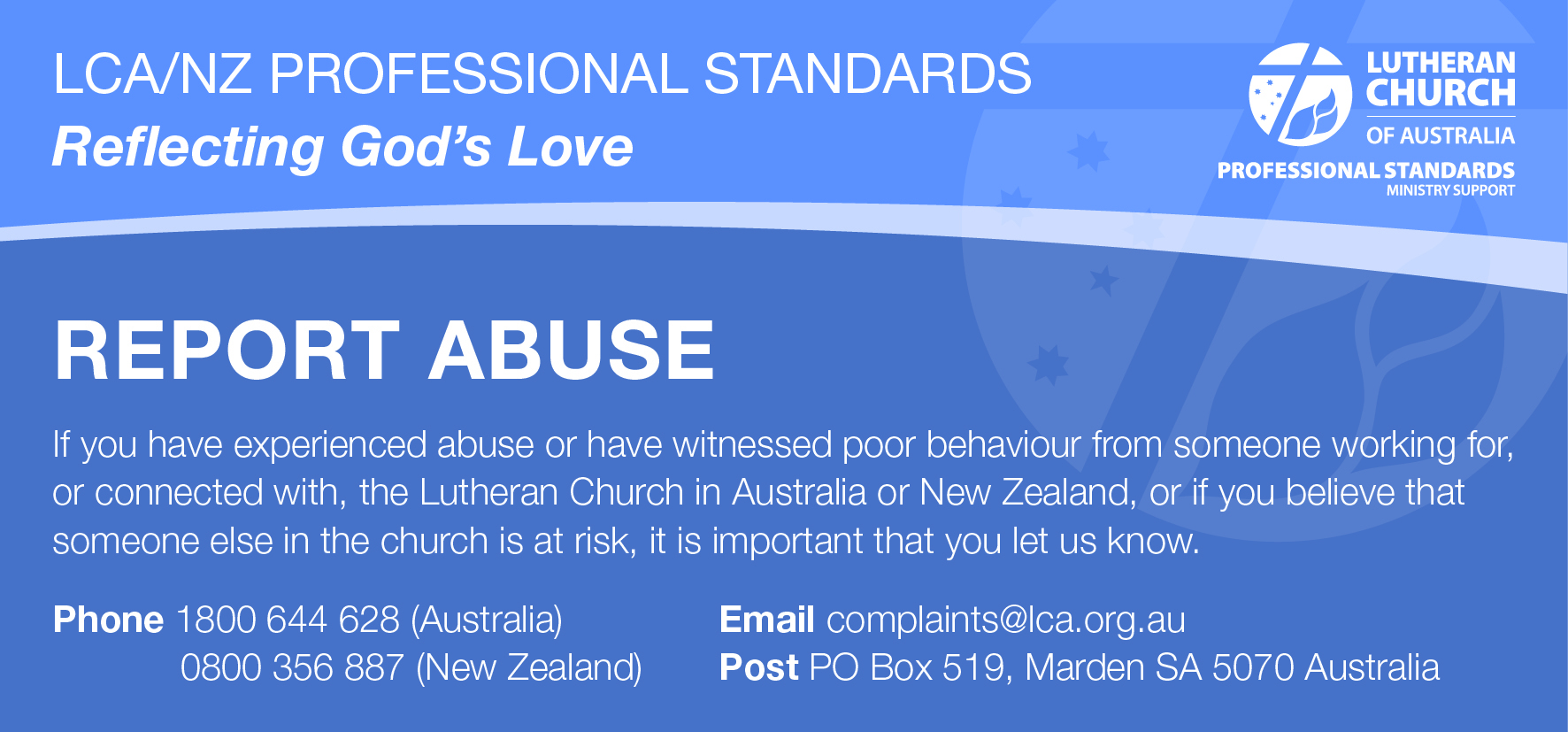 Child Safe Standards Community of Practice Victoria - The Child Safe Standards Community of Practice brings together people from organisations who need to comply with the Child Safe Standards, to learn from and with each other, and create linkages and networks. Victorian Government Commission for Children and Young People Community of Practice.
Child Safety Standards for Congregations. To download click on the image.