Welcome to Wodonga Lutheran Parish>
Welcome in the name of the Lord Jesus Christ. We look forward to having you worship with us!
Looking for a new church home? Talk to any congregation member about your questions, concerns or comments. Also, please feel free to contact the Pastor or call the church office at (02) 6024 7072. Facilities are Handicapped accessible.
More Information Here you will find details of our Parish, our people and activities. If you cannot find the information you are looking for, please contact us.
---
Celebrating Advent and Christmas 2021>
The first Sunday of Advent marks the beginning of the church year, and we celebrate it on the fourth Sunday before Christmas. Advent is a time of preparation and anticipation leading up to Christmas on 25 December. The word 'Advent' comes from the Latin word 'adventus' which means 'coming' or 'arrival'. There are two aspects to Advent. We are first of all preparing to celebrate the birth of Jesus Christ, God's own son, who came into the world more than 2000 years ago in Bethlehem. At the same time, Advent gives us the opportunity to reflect on how we are waiting for Christ to return to earth on the last day. We can look forward to such a time with great hope, because through faith in Jesus, the end of the world will mean the beginning of a new life with Christ forever. So Advent is a time for us to repent and believe – a time to celebrate the Light of the World in the midst of darkness.
On 5 December, 2021 St. John's Lutheran Church, Wodonga celebrate the Second Sunday in Advent at both the 9:30 a.m. and 11:30 a.m. services. For the 9:30 a.m. service you need to be double vaccinated or be an excepted person. For the 11:30 a.m. service please book in through Jenny Simboras.
The Season of Advent>
Wodonga Lutheran Parish invites you to join with us as we celebrate Advent 2021. Advent marks the beginning of the Church calendar. It traditionally starts on the Sunday closest to St Andrew's Day (November 30th) and continues for four Sundays until Christmas. During this time the liturgical paraments and vestments change to purple to recognise Advent as a time for preparation and repentance as well as a symbol of the royalty of the coming King.
Week 1: Hope ✞ We light the purple candle of Hope. Our hope comes from God who will fill all with joy and peace. So it is appropriate that the second Advent candle symbolises peace.
Week 2: Peace ✞ We light the purple candle of Peace. Peace on earth, goodwill to men with the love of Jesus and the promise of a Saviour who would be born in Bethlehem.
Week 3: Joy ✞ We light the pink candle of Joy. The shepherds received a message of joy. It is a time to rejoice during this time for the coming of the Lord is coming soon
Week 4: Love ✞ We light the purple candle of Love. The meaning of the fourth Advent candle is love. The Angel's announce the birth of the baby Jesus. "For God so loved the world that he gave his one and only Son, that whoever believes in him shall not perish but have eternal life." John 3:16
Christmas Day ✞ We light the white candle of Christ. The white candle completes the season of Advent with the birth of the baby Jesus. The white candle stands in the centre of the wreath, just like Christ should stand in the centre of our lives. It is white to reminds us that Jesus is the spotless lamb of God. Clean, sinless, without blemish or stain. Jesus washes us our sins and makes us clean and without stains through the forgiveness of sin.
---
Celebrate Christmas at Wodonga 2021>
Jesus is coming! This year at St John's Lutheran Church, Wodonga we will be celebrating the birth of King Jesus as we share the wonderful news, " For unto us a child is born." We encourage you to bring a friend or two to any of our services.
Christmas Eve On Christmas Eve we celebrate with a contemporary service at Victory Lutheran College in Luther Hall, 28 Drage Road commencing at 6.30 p.m. "For unto us a child is born, unto us a child is given, and the government will be upon His shoulders. And he will be called Wonderful Counsellor, mighty God, Everlasting Father, Prince of Peace." Isaiah 9:6. Please note that you will need to be double vaccinated or be an excepted person to attend the services. It is recommended that you arrive a little earlier so that you can be checked in by our COVID19 Marshalls.
---
News from the Lutheran Church of Australia
Lutheran Church of Australia - The national body of the Lutheran Church continues to support our local Parishes and Churches. To see what is going on take a look at the latest eNews by following this link and reading on-line 23 November 2021 Newsletter - Welcome to Brett Hausler EOC.
Lutheran Church of Australia - Victorian District - Our Victorian Synod has its own electronic newsletter. Access District Voices to see what is happening LCAVD District Voices for 1 December 2021.
LCA Ministry with the Ageing - As part of the Board for Local Missions our vision is seeing care for the ageing as a significant and flourishing ministry of the church. LCA Ministry for the Ageing November newsletter Christian Care Sunday.
LCA Church Worker Support Department - serves the church by assisting employing and calling bodies to work towards seeing that their church workers can start well, stay well and finish well. LCA Church Worker Support 13 August 2021 newsletter.
LCA Grow Ministries - Grow Ministries - exists to support a national vision for children, youth and family ministry in the LCA. LCA Grow Ministries newsletter for 29 November 2021 Encouraging Acts of Service.
LCA International Mission - Global Partners - Local Church seeks to follow our Lord in His mission to the ends of the earth to make disciples of all nations. We partner with, support and resource local people in LCA International Mission newsletter 23 November 2021 Sharing Hospitality with Partner Churches.
LCA Professional Standards - protects people while supporting the LCA's church workers and volunteers. LCA PSD Newsletter 20 October 2021 Documentray - The Children in the Pictures.
If you have experienced abuse or have witnessed poor behaviour from someone working for, or connected with, the Lutheran Church in Australia or New Zealand, or if you believe that someone else in the church is at risk, it is important that you let the Professional Standards Department know. Phone 1800 644 628 (Australia) or 0800 356 887 (New Zealand); email complaints@lca.org.au; or post PO Box 519, Marden SA 5070 Australia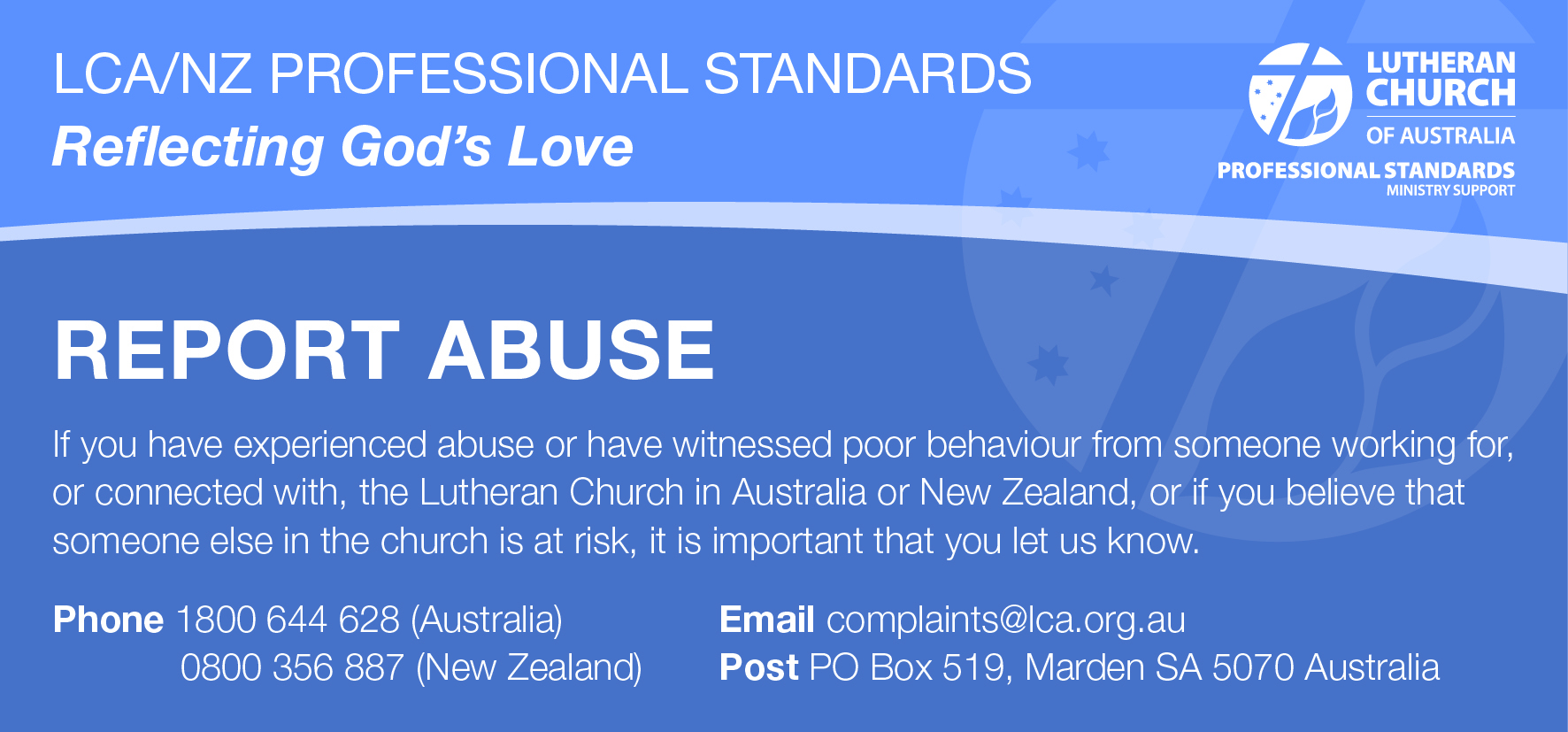 >