Welcome to Wodonga Lutheran Parish>
Welcome in the name of the Lord Jesus Christ. We look forward to having you worship with us!
Looking for a new church home? Talk to any congregation member about your questions, concerns or comments. Also, please feel free to contact the Pastor or call the church office at (02) 6024 7072. Facilities are Handicapped accessible.
More Information Here you will find details of our Parish, our people and activities. If you cannot find the information you are looking for, please contact us.
---
News from the Lutheran Church of Australia
Lutheran Church of Australia - The national body of the Lutheran Church continues to support our local Parishes and Churches. To see what is going on take a look at the latest eNews by following this link and reading on-line 21 June 2022 Newsletter - General Church to discuss ordination of women for a fifth time
Lutheran Church of Australia - Victorian District - Our Victorian Synod has its own electronic newsletter. Access District Voices to see what is happening LCAVD District Voices for 15 June 2022.
LCA Care Ministries - The vision of the committee is to support and encourage Christian care, in all its forms, in our congregations and in Lutheran Aged Care and Community Services. Newsletter for 13 May 2022 What Motivates you to Care for Your Community?
LCA Church Worker Support Department - serves the church by assisting employing and calling bodies to work towards seeing that their church workers can start well, stay well and finish well. LCA Church Worker Support 9 June 2022 newsletter - Start Well, Stay Well, Finish Well.
LCA Grow Ministries - Grow Ministries - exists to support a national vision for children, youth and family ministry in the LCA. Newsletter for 27 June 2022 - Diving Deeper Into Inter-generational Ministry.
LCA International Mission - Global Partners - Local Church seeks to follow our Lord in His mission to the ends of the earth to make disciples of all nations. LCA International Mission newsletter 1 June 2022 - Murray's Missionary update'.
LCA Professional Standards - protects people while supporting the LCA's church workers and volunteers. Newsletter for 21 April 2022 Child Safety Standards for Congregations.
If you have experienced abuse or have witnessed poor behaviour from someone working for, or connected with, the Lutheran Church in Australia or New Zealand, or if you believe that someone else in the church is at risk, it is important that you let the Professional Standards Department know. Phone 1800 644 628 (Australia) or 0800 356 887 (New Zealand); email complaints@lca.org.au; or post PO Box 519, Marden SA 5070 Australia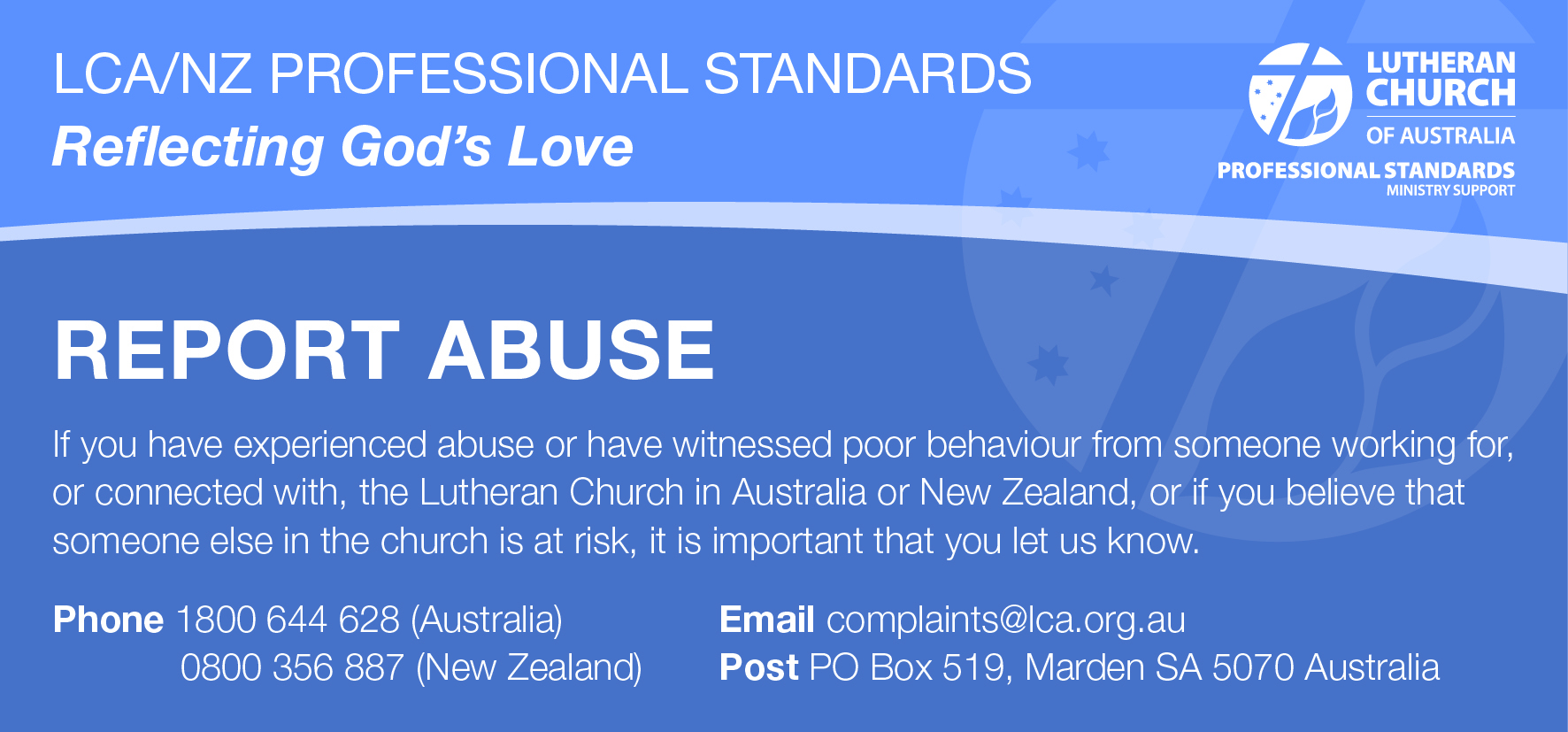 Child Safe Standards Community of Practice Victoria - The Child Safe Standards Community of Practice brings together people from organisations who need to comply with the Child Safe Standards, to learn from and with each other, and create linkages and networks. Victorian Government Commission for Children and Young People Community of Practice.
>
Child Safety Standards for Congregations. To download click on the image.